THE MOST COMPLETE RESISTANCE BAND GUIDE EVER MADE

SET FOR SET delivers a complete training curriculum that will equip you with the knowledge and skill of learning how to use Resistance Bands in every way possible.
Our resistance band guide will provide you with over 250 exercises categorized by Mobility, Mobilization, Resistance Training, Assistance Training, Explosive Training, Barbell Training, Static Stretching, and (P)Rehabilitation.
Each exercise includes a video demonstration, step-by-step instructions, cues for correct technique, and targeted muscles.
We also teach you how to create and program effective resistance band workouts!
HIGHLIGHTS INCLUDE:
-250+ resistance band exercise videos categorized by mobility, mobilization, resistance, assistance, explosive, barbell, stretching, and pre/rehab (approx. half of the exercises require an anchor point like a pole or pull-up bar while the other half are non-anchored so just your body and the band are needed).
-Workout methods & programming for fat loss, hypertrophy, and strength.
Ultimately, our promise with this guide is that you will be able to Train Better, Move Better, Feel Better, and Look Better using bands.



RESISTANCE BANDS
The bands we are using in this guide are 41" flat loop resistance bands, aka power bands. These types of bands are the most versatile, as they can be used for nearly every aspect of training, such as warm-up, mobility, workout, and recovery.
For each section of our resistance band guide, we have exercises that require an anchor point (like a pole or a pull up bar) and exercises that can be done without an anchor (so, just the band and your body is needed). It's about half and half. So, even if you don't have something to anchor the bands to, there are still so many exercises that you can do and you can target all of your muscles effectively (moreover, you can do killer workouts with your bands literally anywhere).
WHO SHOULD BUY THIS RESISTANCE BAND E-BOOK?
If you own or plan to buy 41" loop resistance bands, this guide will be invaluable for your training. It will literally teach you all of the ways that you can use bands. Knowing how to use your fitness product in every way possible will not only give you the biggest bang for your buck, but will also enable you to take your fitness and movement skills to the next level.
RESISTANCE TRAINING CATEGORIES

Mobility Training: 11 mobility exercises to target all areas of your body.
Joint Mobilization: 7 mobilization exercises to improve mobility or reduce pain in all your joints.
Resistance Training: Over 160 resistance exercises categorized by chest, back, shoulders, triceps, biceps, forearms, lower body, and core.
Assistance Training: 8 assistance exercises to help you become stronger in bodyweight movements for relative strength.
 Explosive Training: 15 explosive exercises to improve sports performance.
 Barbell Training: 7 ways to combine resistance bands with barbell lifts to increase strength and stability.
 Static Stretching: 34 static stretches using bands to help improve flexibility.
 Rehabilitation: 16 rehab exercises to target isolated areas without causing undue stress on joints (these are also great for prehab to avoid injury in the first place).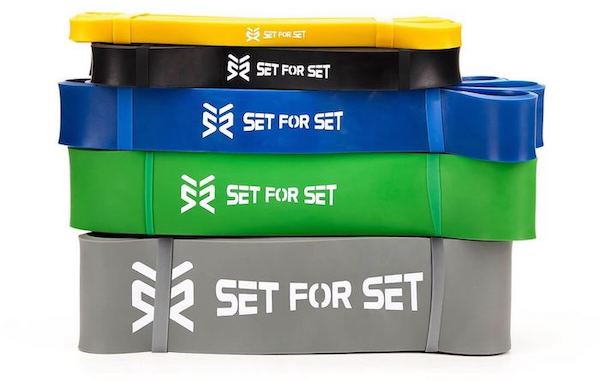 AFTER MASTERING THIS RESISTANCE BAND EXERCISE COURSE YOU WILL BE ABLE TO:

-Apply and coach movement standards and cues across a broad library of resistance band exercises.

-Properly perform over 250 resistance band exercises.

-Target all of your muscles and joints effectively with resistance band exercises (both anchored and no anchor).
-Modify exercises with training variables to target and overload specific muscles or add intensity to scale movements for all fitness levels.

-Correctly engage muscles and joints when performing resistance band exercises.
-Teach resistance band exercises and stretches effectively to your friends, family or clients.
Note: For those who purchase our Resistance Band e-Guide, when we make updates to it, you will automatically receive an email with the newest version. Furthermore, all of the exercise videos in this resistance band PDF are connected to our Google Drive, which you will have access to via shared links within the e-guide. You will also be able to download all of the videos if you wish to do so.