Fabric Non-Slip Booty Bands That Never Roll or Break
Set For Set's Fabric Resistance Bands are the optimal choice for a low-impact highly efficient training tool to enhance your lower body performance. Our non-slip booty bands are an awesome addition for your leg and glute workouts. These non-slip hip circle bands are easily transportable and are suitable for people of all fitness levels. Our fabric hip circle bands are the perfect auxiliary piece of equipment to increase muscle activation, build your glutes, increase your lower-body strength, improve your hip mobility, and help you maintain good form when performing squats. Add our fabric resistance bands to your gym and home workouts or bring them with you on your travels to supplement your fitness routine. You can even use these booty bands sitting at your desk doing adductor seated flies!  These premium booty bands can also be used during your yoga or pilates session for an added challenge. Our fabric hip circle bands are safe on your joints and can even aid in preventing future injuries, especially during big lifts like squats.

We are confident when we say these are the best booty bands on the market. With our bands, you can take your leg and core workouts to the next level!

Size and best use for each fabric hip circle band:

Pink Fabric Band 
Glute, hip and leg muscle activation during squats, hip thrusts and bodyweight exercises, as well as warm-ups and core training - Targets and activates legs, hips, and, of course, the booty!
Medium resistance level

Black Fabric Band
Lower body muscle activation, hypertrophy and strength. Improves form and range of motion. Great for squats, hip thrusts, glute bridges and so much more.
Heavy resistance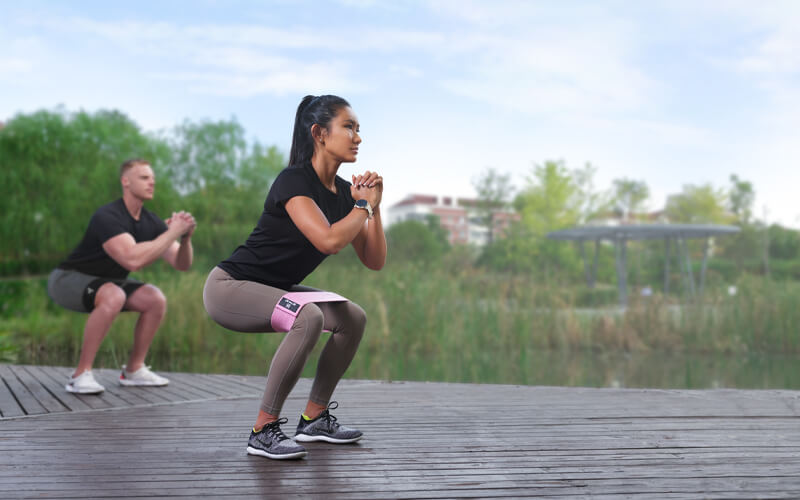 Fabric Non-Slip Booty Bands have an outer woven cotton layer for an anti-slip design. Unlike using pure latex rubber booty bands, our fabric resistance bands won't roll or slide up your thigh while exercising. You won't have to keep adjusting them like you do rubber mini bands. These booty bands were engineered with comfort and function in mind. Our glute bands fit snug to your legs so you can keep training without missing a beat. The inner layer is a natural latex that is extremely durable and provides an excellent source of static resistance. Make note though, our premium fabric resistance bands have more tension than latex mini bands. This means your lower body muscles will be better activated. That way you can build serious hip strength and a big, round, tone booty that we all desire (men and women alike!). 
Specifications:
Outer layer made of woven cotton and polyester. Inside band made of natural latex.
Color: Pink, Black
Sizes:
Pink - 15 to 30 pounds (~3' x 29')
Black - 20 to 55 pounds (~3 x 33")
Benefits of Booty Bands

Booty band workouts will increase muscle activation, strength, mobility and flexibility of the lower body. Booty bands (a.k.a. hip circle bands or glute bands) are also great for decreasing fat and boosting stamina, preventing and rehabilitating injuries, and enhancing functional movements. Supplementing our fabric resistance bands into your workout will enhance your overall fitness and athletic performance.
The bands are very versatile as well, so they can be used during warm-up, workout, and recovery. This is why we believe booty bands are one of the best lightweight portable fitness equipment.
More benefits

:

Activate hip, glutes and thighs
Get Stronger and more toned.
Improve Mobility,
Balance 
and Coordination.
Increase Flexibility and Range of Motion.
Boost Stamina and Decreases Fat.

Prevents and Rehabilitates Injuries.

Adds resistance to yoga and pilates workouts.
Budget-friendly.

Accessible to all fitness levels.

Used with and like familiar traditional exercises.

Complete full lower-body without anything but the bands.

Save on storage space.

Excellent for traveling.

Safe and easy to use alone (no need for a spot).